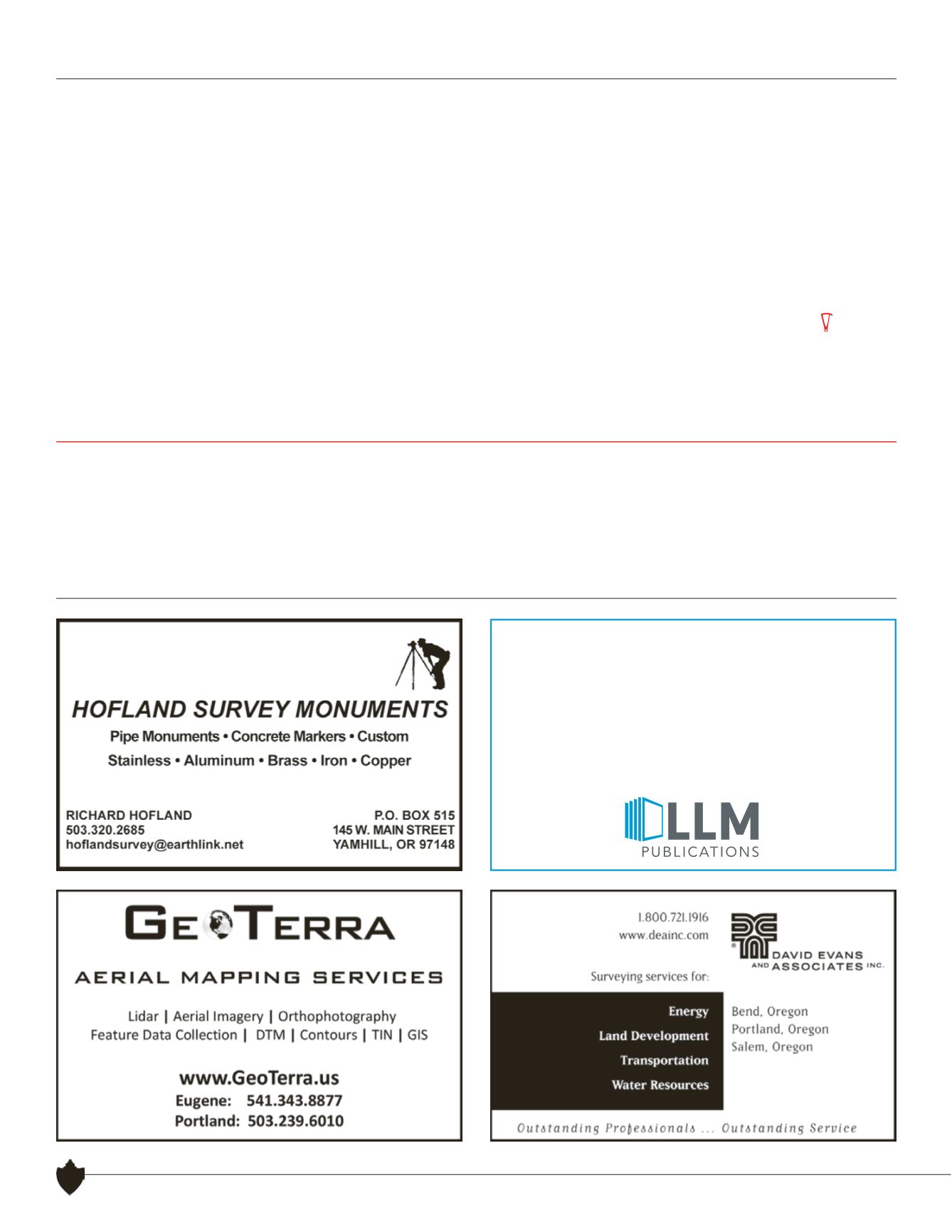 The Oregon Surveyor
|
Vol. 40, No. 2
18
A Young Surveyor's Testimonial,
continued
contributed to becoming lackadaisical, because my
identity wasn't attached to the outcome in any way
(except internally to the office). Now, my name is going
to be attached, and there's no one higher up or lower
to shift blame or responsibility. I get to take responsi-
bility for my work, for my education, and for my role
in the public as well as the professional surveying
community. I have the power to make decisions on
what type of projects to accept and where, and who
I want to work with. So, I am now creating something
of my own, and it is taking on my personality. This is
a long game. It takes patience and dedication, but it
feels more rewarding than anything else that I have
ever done. When it comes down to it, I am where I am
because I've worked hard, but also because of all the
family, friends, and colleagues who have helped me
along the way. Here are a few in no particular order:
Matt Ellis, Esq
Jerry Ellis
Chris Sherby, PLS
Jered McGrath, PLS
Jonathan Lang, PLS
Adam Goddin, PE
Paul Landau, PLS
Tim Verney, PLS
Jim Klein, PLS
Dan Boldt, PLS
Ray Griffin, PLS
Lee Spurgeon, PLS
Pat Gaylord, PLS
Suzanne DeLorenzo, PhD
Alisa Garlington, LMT
Ed Kroll, Esq
Dan DiCicco
Pamela Hollander, RYT
Jose DeLeon, PI
Reference
1) The Cure for Anything is Salt Water by Mary South
Samantha Tanner is a PLS in Oregon and owner of 45th Parallel Geomatics, LLC in Hood River. She earned a B.S. in Geomatics from the University of Alaska,
Anchorage in 2008 and has worked in the surveying industry for 11 years.
Professional Listings
Place your professional
listing here!
Nicole Gardner
503-445-2233
Nicole@llmpubs.com